How does PTE compare to IELTS and TOEFL tests?
There are many reasons why you should chose PTE Academic over other English tests out there:
For example did you know that PTE Academic is the fastest for both booking time and for delivering your test result? And how about the fact that having the test computer-marked marked means you don't need to attend an extra Speaking test session with a live examiner and that this means there is no risk of any human bias in your test score?
See how PTE Academic compares with other tests: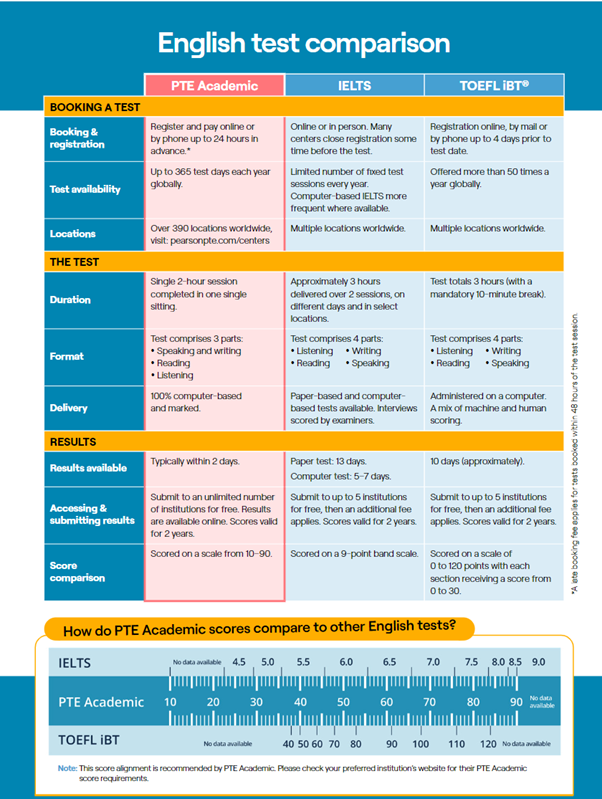 PTE Academic vs IELTS Academic vs TOEFL iBT format
While the format of these three popular English tests is different, they evaluate the same basic skills: Reading, Writing, Listening, and Speaking. Now that you know the structure of PTE Academic, let's have a look at the academic exams offered by IELTS and TOEFL.
IELTS Academic format
The exam takes 2h and 45 minutes to complete:
Listening: 30 minutes
Academic Reading: 60 minutes
Academic Writing: 60 minutes
Speaking: 11 – 14 minutes. Unlike PTE Academic and TOEFL iBT, where you record your answers using a pair of headphones and a microphone, the IELTS Academic uses a face-to-face interview with an examiner.
TOEFL iBT format
TOEFL takes around 3 hours to finish.
Reading: 54 – 72 minutes
Listening: 41 – 57 minutes
Speaking: 17 minutes
Writing: 50 minutes
The results for these three English exams are only valid for 2 years. Depending on how much you use English afterwards and where you apply, a university or employer might require you to retake the test for your application.
So to summarise the benefits of PTE Academic:
Take the PTE Academic test 365 days a year, unlike IELTS and TOEFL, which have a limited number of sessions per month.
Book PTE tests up to 24 hours before you take the test, either online or by phone. The process is simple and quick, meaning you don't need to worry about registering for the test at short notice.
PTE Academic is taken entirely on the computer and marked using advanced computer algorithms, so you don't need to worry about human examiner bias.
You will receive your PTE scores super-fast, within 2 days.
You may have heard of other English tests, such as Duolingo English Test, TOEIC, Cambridge English certificates etc. But none of these have PTE's combination of wide trust and recognition by universities combined with super-fast test booking and score return. PTE Academic stands out as the most reliable, fast and fair English test for international study.